PredictLeads took the data for 5000 US based companies from different sectors and aggregated hiring intent data for each of the sectors. Our goal was to review how hiring intent correlates with pandemic consequences.
US states started pandemic lockdowns on March 19th and by mid April 90% of US population were under some form of lockdown.
Below we share three industries and how they were affected by Covid19 during this period and after.
For the IT industry our data shows downward trajectory of active job openings started on March 25th. On this day 20,000 job openings were slashed from the IT industry.
They were further decreased by nearly 130,000 job openings till May 28th 2020.
March
US unemployment rate rose from 3.8% to 4.5% in March. During last week of March 47,000 jobs were cut per PredictLeads data. In March the total number of job openings in the IT industry decreased by 6.8%.
April
US unemployment further rose in April to a record high of 14.4% during which 70,000 additional job openings were delisted in the IT industry alone – a staggering 12.8% decrease.
May
Data shows 51,000 job openings were removed in May (1st-28th). If there would be linear correlation between job listings and unemployment rate, this would suggest unemployment rate will further increase to ~21% by the end of Month of May. Up till now this means a 10.1% decrease in listed job openings.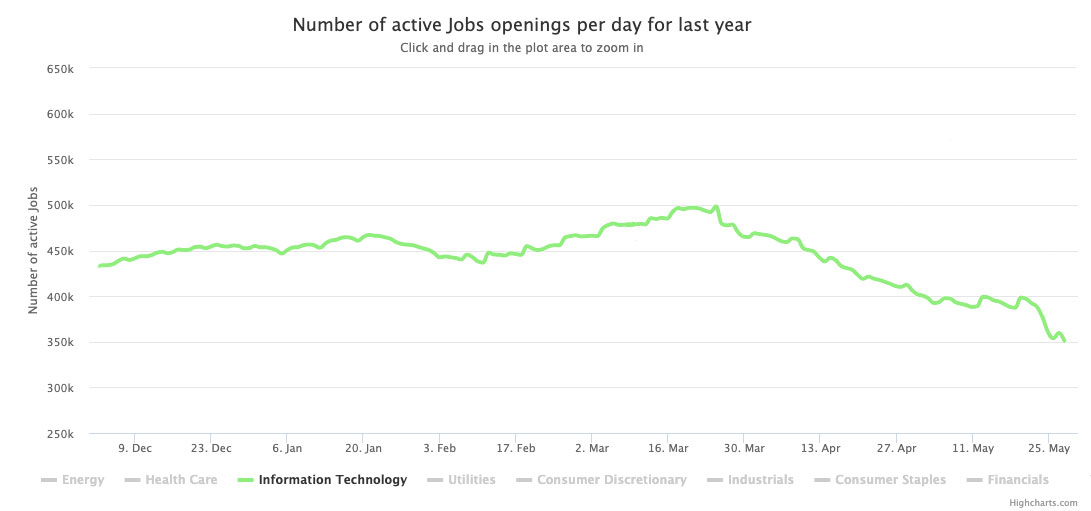 Similar trends are seen for the Consumer Discretionary and Industrials industries as seen from below two graphs.
Covid19 definitely has a big impact on Hiring Intent.
If you'd like to get more detailed data on anything Hiring related please check out our APIs at https://docs.predictleads.com or contact us at founders@predictleads.com and we'll be happy to help.
Roq